BIRTHDAYS
1934: Brian Epstein
1941: Lee Dorman (Iron Butterfly)
1943: Cass Elliott (The Mamas & The Papas)
1946: John Coghlan (Status Quo)
1947: Laurence "Lol" Creme (10CC)
1951: Daniel Lanois
1952: Nile Rodgers (Chic)
1958: Lita Ford (The Runaways)
1963: Jarvis Cocker (Pulp)
1969: Candy Dulfer
EVENTS
1973: Death of Gram Parsons [aged 26].
1981: The Rolling Stones album 'Tattoo You' started a 9-week run at No.1 on the US chart.
1985: Frank Zappa testified at a congressional hearing against P.M.R.C. censorship. The Parents Music Resource Center were a group of U.S. senator's wives, who decided a rating system for records was necessary for those they deemed offensive. Frank (and others, such as Dee Snider of Twisted Sister) strongly opposed the group's desire to censor artists.


1999: Yes released their album 'The Ladder'.
2003: Yes played a concert at Vodafone Arena, Melbourne — I was there & met them after the show!
2019: Death of guitarist, Larry Wallis of Motorhead & Pink Fairies [aged 70].
Gram Parsons was only 26 when he od'd 47 years ago. A true original, Gram was a key influence on The Stones in the early 70s, and many other artists since. 
BIRTHDAYS
1949: Kerry Livgren (Kansas)
1952: Douglas Colvin a.k.a. Dee Dee Ramone
EVENTS
1970: Death of James Marshall "Jimi" Hendrix [aged 27].
1970: Black Sabbath released their second album, 'Paranoid'.
On the same day as Jimi died, Black Sabbath released their second LP, 'Paranoid'. A number one album for the Sabs, it is a groundbreaking, quintessential record from the masters of heavy rock, featuring "War Pigs", "Paranoid", "Iron Man" and other doom-laden classics!
1971: Pink Floyd performed 'Atom Heart Mother' at the Classical Music Festival in Montreaux, Switzerland.
1971: The Who scored their first and only UK No.1 album with 'Who's Next'.
1976: Boston released the single "More Than a Feeling".
1999: Bassist D'Arcy Wretzky announced that she had quit The Smashing Pumpkins.
Jimi Hendrix ~ Like a psychedelic fireball of sound, Jimi shone very brightly, but was only on Earth for a brief time. He left us some of the greatest music and guitar playing ever! His Haze was so Purple…

BIRTHDAYS
1923: Hank Williams
1947: Jim Hodder (Steely Dan)
1950: John Waldo a.k.a. Fee Waybill (The Tubes)
1959: William Gregory (Goldfrapp)
1969: Keith Flint (The Prodigy)
1973: Lyn Newkirk a.k.a. Anastacia
EVENTS
1987: Yes released their 'Big Generator' album.
1991: Over 4 million copies of Guns N' Roses albums, 'Use Your Illusion I' & 'Use Your Illusion II' were simultaneously released, making it the largest ship-out in American pop history. Both albums went to No.1 & No.2 on the UK & US charts.
1991: Death of singer, Robert Derminer a.k.a. Rob Tyner of MC5 [aged 46].
Was it really 33 years ago since the 'Big Generator' album was released? Yes! There is no official video for my favourite track from the 1987 LP ("Shoot High, Aim Low"), but a Yesfan has put this nice collage together for it…
After the 'Big Generator' tour, original singer, Jon Anderson quit the group to reform with classic Yes men, Bill Bruford, Steve Howe & Rick Wakeman. Guitarist, Trevor Rabin and bassist, Chris Squire (pictured above) continued to work together under the Yes banner for several more years. At that point in time (1988-1990), there were two versions of Yes, and in 2017 history repeated itself! Steve Howe & Alan White have "Official" Yes (with Geoff Downes, Jon Davison & Billy Sherwood), which they have kept going through the decades, and with the passing of Chris Squire, three ex-members ~ Jon Anderson, Trevor Rabin & Rick Wakeman ~ had their version of Yes playing shows for a while too.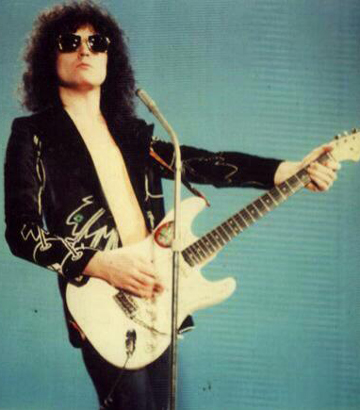 BIRTHDAYS
1925: Riley "B.B." King
1948: Kenney Jones (The Small Faces / The Faces / The Who)


1952: Ron Blair (Tom Petty's Heartbreakers)
1954: Colin Newman (Wire)
1969: Justine Frischmann (Elastica)
1984: Katie Melua
EVENTS
1970: Jimi Hendrix joined Eric Burdon on stage at Ronnie Scotts in London for what would become the guitarists last ever public appearance.
1977: Death of singer / songwriter / guitarist, Marc Bolan [aged 29].
Marc Bolan went to rock star heaven 43 years ago. Bolan was a passenger in a purple Mini 1275GT (registration FOX 661L) driven by his girlfriend, Gloria Jones. The car struck a steel reinforced chain link fence post and came to rest against a sycamore tree after failing to negotiate a small humpback bridge near Gipsy Lane on Queens Ride, Barnes, southwest London. Neither occupant was wearing a seat belt. Bolan was killed instantly, while Jones suffered a broken arm and broken jaw and spent time in hospital; she did not learn of Bolan's death until the day of his funeral, which was attended by David Bowie, Rod Stewart, Tony Visconti, Steve Harley and many others. His crash site has subsequently become a shrine to his memory, with fans travelling from all over the world to leave tributes beside the tree. Bolan never learned to drive, fearing a premature death. Despite this fear, cars or automotive components are mentioned in, if not the subject of, many of his songs and he also owned a number of vehicles, including a white 1960s Rolls-Royce. "I drive a Rolls Royce, 'cause it's good for my voice".
Marc didn't make it to 30, but he left us some fantastic songs ~ find a T. Rex record and Get It On! This is a great clip for a very cool Bolan number…
BIRTHDAYS
1960: Michel Dorge (Crash Test Dummies)
1965: Zak Starkey (The Who)
1977: Paul Thomson (Franz Ferdinand)
EVENTS
1974: New Zealand bassist, Gary Thain of Uriah Heep was severely electrocuted, whilst performing on stage with the group in Dallas, Texas.


1980: Death of jazz pianist, Bill Evans [aged 51].
2004: Death of guitarist / singer, John Cummings a.k.a. Johnny Ramone [aged 55].
2008: Death of keyboard player, Richard Wright of Pink Floyd [aged 65].
2019: Death of singer / songwriter / musician / producer, Ric Ocasek of (The Cars) [aged 75].
Richard Wright… twelve years gone and hugely missed! He wrote this Pink Floyd masterpiece ~ and it's where he's at now: "The Great Gig in the Sky"…

BIRTHDAYS
1946: Pete Agnew (Nazareth)
1949: Ed King (Lynyrd Skynyrd)
1949: Steve Gaines (Lynyrd Skynyrd)
1950: Paul Kossoff (Free)
1983: Amy Winehouse
Singer, Amy Winehouse would have been 36 today! She certainly made her mark in the music world, but tragically died on 23 July 2011, at the age of ~ you guessed it ~ 27.

EVENTS
1974: Mike Oldfield's 2nd album 'Hergest Ridge' started a 3-week run at No.1 on the UK chart.
1975: Supertramp released their fourth album, 'Crisis? What Crisis?'.
1991: Jane's Addiction played a concert at Auckland Town Hall — I was there again! (Yes, I went both nights).
2017: Death of drummer / singer / songwriter, Grant Hart, of Husker Du [aged 56].
The late Paul Kossoff of Free was born 69 years ago. Check out this great footage of Free performing "Fire and Water" from 1970. Listen to that Les Paul Gibson sing… Koss!!
BIRTHDAYS
1944: Les Harvey (Stone The Crows / Alex Harvey Soul Band)
1949: Craig McGregor (Foghat)
1952: Don Was (Was Not Was)
1963: Dave Mustaine (Metallica / Megadeth)
1967: Stephen Perkins (Jane's Addiction)
1977: Fiona Apple
EVENTS
1969: John Lennon, Yoko Ono, Eric Clapton, Klaus Voorman & Alan White flew to Canada to perform at the Rock & Roll Revival Show (later issued on record as 'Live Peace in Toronto').
1972: Yes released their monumental fifth album, 'Close to the Edge'. It sounds just as amazing and timeless now as it did in 1972!


1974: Supertramp released their third album, 'Crime of the Century'.
1991: I interviewed Tony Kaye of Yes.
1991: Jane's Addiction played a concert at Auckland Town Hall ~ I was there!
1993: Living Colour played a concert at Auckland Town Hall ~ I was there!
2019: Death of singer / songwriter Eddie Money (Edward Mahoney) [aged 70].
Happy 53rd Birthday to Stephen Perkins ~ great drummer for Jane's Addiction. I also saw JA live on this date, 29 years ago!
BIRTHDAYS
1943: Maria Muldaur
1944: Barry White
1952: Neil Peart (Rush)
1956: Barry Andrews (XTC, Shriekback, Gang of Four, League of Gentlemen)
1966: Ben Folds (Ben Folds Five)
EVENTS
1966: The Beatles received a gold record for 'Yellow Submarine'.
1970: James Taylor released his first single, "Fire and Rain".
1975: Pink Floyd released their album, 'Wish You Were Here'.
1975: Thin Lizzy released their album, 'Fighting'.
1980: David Bowie released his 'Scary Monsters (And Super Creeps)' album.
1987: Morrissey left The Smiths to pursue a solo career.
1989: Aerosmith released their album, 'Pump'.
1990: Stevie Nicks & Christine McVie both announced that they would no longer perform with Fleetwood Mac.
1993: Danzig played a concert at Auckland Town Hall — I was there!
2000: The family of Jimi Hendrix released 56 rare tracks in a 4-CD boxed set, 'The Jimi Hendrix Experience'.
2014: Death of bassist John "Gus" Gustafson of The Big Three, Ian Gillan Band, Roxy Music, Quartermass, etc. [aged 72].
2014: Joe Bonamassa played a concert at Auckland Town Hall — I was there!
2017: Death of singer / guitarist Jessi Zazu Wariner, of Those Darlin's [aged 28].
2017: Death of guitarist Phil Whitehead, of NZ progressive rock bands, Think & Human Instinct.
Neil Peart of RUSH was born on this day in 1952, but sadly passed away too young, on 7th of January, 2020. He was undoubtedly one of the best percussionists on the planet ever and he also wrote the lyrics for Rush. Thanks for all the great music, Mr. Peart! Here's "YYZ", a showcase for Neil's incredible drumming… 
BIRTHDAYS
1943: Mickey Hart (The Grateful Dead)
1948: John Martyn
1953: Tommy Shaw (Styx)
1955: Hiram Bullock
1958: Mick Talbot (The Style Council)
1965: Richard Hall a.k.a. Moby
1967: Harry Connick Jr.
1971: Richard Ashcroft (The Verve)
1977: Jonny Buckland (Coldplay)
EVENTS
1965: The Beatles started a 9-week run at No.1 on the US album chart with 'Help'.
1967: Filming began in Devon, England, for the Beatles film 'Magical Mystery Tour'.
1987: Death of Peter Tosh [aged 42].
1987: At the MTV Awards, Peter Gabriel won best video, best male video, best concept video, best special effects and five other awards for the track "Sledgehammer".
1996: Noel Gallagher walked out on an American tour with Oasis, after a fight with his brother, Liam.
2007: Death of Joe Zawinul of Weather Report [aged 75].
2016: Death of drummer, Leonard Haze, of Y&T [aged 61].
2017: Death of drummer / DJ, Virgil Howe a.k.a. The Verge, of Little Barrie [aged 42]. Virgil was son of Yes guitarist, Steve Howe.

2019: Death of singer / songwriter, Daniel Johnston [aged 58].
2020: Death of singer / songwriter / guitarist, Frederick "Toots" Hibbert of Toots & The Maytalls [aged 77].
Happy Birthday to John Martyn ~ although sadly, he is no longer with us. He played at Sweetwaters Festival the year that I did with Rose Bayonet (1983). His set was very memorable, highlighting what a unique, remarkable guitarist he was. Check out this amazing live rendition of "Solid Air"…
BIRTHDAYS
1945: Jose Feliciano
1949: Barriemore Barlow (Jethro Tull)
1950: Joe Perry (Aerosmith)
1950: Don Powell (Slade)
1955: Pat Mastelotto (King Crimson)
1956: Johnny "Fingers" Moylett (The Boomtown Rats)
1966: Robin Goodridge (Bush)
1984: Matthew Followill (Kings of Leon)
EVENTS
1962: The BBC banned Bobby 'Boris' Pickett & Crypt Kickers "offensive" single "Monster Mash".
1966; The Beatles began a 6-week run at No.1 on the US album chart with 'Revolver'.
1974: The New York Dolls split up.
1991: Nirvana's single "Smells Like Teen Spirit" was released in America.
1994: Sepultura & Sacred Reich played a concert at Auckland Town Hall ~ I was there!
2001: Yes released their nineteenth studio album, 'Magnification'.
2005: "A Day in the Life" by The Beatles was voted "Best British song of all time" by music experts.
2005: Death of Clarence "Gatemouth" Brown [aged 81].
2016: Death of Chris Stone, founder of The Record Plant recording studios [aged 81]. The first album to be recorded at The Record Plant was 'Electric Ladyland', by Jimi Hendrix. Other albums include Eagles' 'Hotel California' and Fleetwood Mac's 'Rumours'.
Happy 70th Birthday to Joe Perry of Aerosmith. A mean guitarist, Joe co-wrote many of their classic songs, including this one. From my favourite Aerosmith LP, 'Rocks', this is "Back in the Saddle"!