BIRTHDAYS
1943: George Harrison
1957: Dennis Diken (The Smithereens)
1959: Mike Peters (The Alarm / Big Country)
EVENTS
1957: Buddy Holly & The Crickets recorded "That'll Be the Day".
1972: Led Zeppelin performed at Western Springs Stadium, Auckland. Man, I wish I had been there!!!
1984: Van Halen's "Jump" started a 5-week run at No.1 on the US singles chart.
1992: James Brown received a "Lifetime Achievement" Award at The Grammys.
1993: I interviewed Sammy Hagar, then singer in Van Halen.
1994: Bo Diddley & Roy Orbison received "Lifetime Achievement" Awards at The Grammys.
2019: Death of singer / songwriter / musician, Mark Hollis of Talk Talk [aged 64].
George would have been 78 today. Such a wonderful musician, hugely missed, every day ~ Mr. George Harrison!

BIRTHDAYS
1944: Nicky Hopkins (The Rolling Stones / Jeff Beck Group / Joe Cocker Band)
1962: Michelle Johnston a.k.a. Michelle Shocked
EVENTS
1969: The Jimi Hendrix Experience returned by popular demand for a second performance at the Royal Albert Hall, London. They had played there six days earlier.
1975: Led Zeppelin released their double album, 'Physical Graffiti'.
1990: Death of singer, Johnnie Ray [aged 63].
1992: Kurt Cobain married Courtney Love in Waikiki, Hawaii.
1994: Death of violinist, "Papa" John Creech of Jefferson Airplane & Hot Tuna [aged 76].
1995: I interviewed Steve Vai.
2000: Carlos Santana won eight Grammy awards.
2004: Death of Estelle Axton, co-creator of the legendary Stax Records label [aged 85].
2013: Journey & Deep Purple played a concert at Vector Arena, Auckland ~ I was there!
It was 46 years ago that my favourite Led Zeppelin album was released ~ 'Physical Graffiti'!! Packaged in a very intricate die-cut cover with windows and interchangeable inner sleeves, the 2LP set was the first Zep release on the band's own Swan Song label.
The glorious double album features the towering epic "Kashmir", the brilliantly layered "Ten Years Gone", the irresistible groove of "Trampled Underfoot", the monstrous "Rover", delicious "Custard Pie" and several other essential Zeppelin numbers ~ including this thunderous blues rock masterpiece:
BIRTHDAYS
1944: Johnny Winter
1948: Steve Priest (Sweet)
1952: Brad Whitford (Aerosmith)
1958: David Batt a.k.a. David Sylvian (Japan)
1963: Rob Collins (The Charlatans)
EVENTS
1978: David Coverdale's Whitesnake made their debut at the Sky Bird Club, Nottingham, England.
1997: Death of jazz drummer, Tony Williams [aged 51].
2003: Death of bassist, Howie Epstein of Tom Petty's Heartbreakers [aged 47].
Mr. Steve Priest was born on this day in 1948! Great bassist / singer / songwriter and co-founder of Sweet… Was terribly sad to hear of his death on 4th of June, 2020. Here's the video for the first single I ever bought ~ "The Ballroom Blitz"! Are you ready, Steve?

BIRTHDAYS
1953: John Sparks (Dr. Feelgood)
1953: Nigel Planer a.k.a. Neil (The Young Ones / Bad News)
1962: Michael Wilton (Queensryche)
1973: Scott Phillips (Creed)
EVENTS
1968: Jon Anderson & Chris Squire met at La Chasse club in London and went on to form Yes.
1968: Genesis failed to chart with "Silent Sun", their first single.
1987: Death of artist, Andy Warhol [aged 58].
The seeds of Yes were planted 53 years ago. "Looking Around" was one of the first songs that Jon Anderson & Chris Squire wrote together. Right from the start of their career, you can hear how prominent Squire is on bass within the Yes sound. (Photo: Charles Hope, 1978)
BIRTHDAYS
1893: Andrés Segovia
1933: Nina Simone
1948: Paul Newton (Uriah Heep)
1949: Jerry Harrison (Talking Heads / The Modern Lovers)
1962: Mark Arm (Mudhoney)
1967: Michael Ward (The Wallflowers)
1969: James Dean Bradfield (The Manic Street Preachers)
EVENTS
1958: The first Gibson Flying V guitar was shipped from the factory in Kalamazoo, Michigan.
1995: For the first time in seven years, Bruce Springsteen performed live with the E Street Band, at a New York City night.
2016: Death of guitarist, Piotr Grudziński of Riverside [aged 40].
2019: Death of singer / bassist, Peter Tork of The Monkees [aged 77].
Happy Birthday to Jerry Harrison, who is 72 today! One of the great songs he co-wrote with Talking Heads…

BIRTHDAYS
1946: J. Geils
1950: Walter Becker (Steely Dan)
1951: Randy California (Spirit)
1967: Kurt Cobain (Nirvana)
EVENTS
1960: Jimi Hendrix made his stage debut when he played at a High School in Seattle.
1970: Thin Lizzy made their debut live appearance in Dublin, Ireland.
1974: A concert by Yes at Madison Square Garden sold out immediately, without any advertising.
1991: Bob Dylan was awarded a lifetime achievement award at the 33rd annual Grammy Awards.
2003: 100 people died after pyrotechnics ignited a club, during a gig by Great White in Rhode Island.
2009: Iron Maiden played a concert at Mt. Smart Stadium, Auckland ~ I was there!
2012: Roger Waters performed 'The Wall' concert at Vector Arena, Auckland ~ I was there!
2018: Dweezil Zappa played a concert at Bruce Mason Centre, Auckland ~ I was there!
Nine years ago already! I'm sure many of you out there witnessed at least one of the four nights, when Roger Waters staged 'The Wall' in Auckland… or the other 215 performances around the world. What a phenomenal event! 
BIRTHDAYS
1948: Tony Iommi (Black Sabbath)
1948: Mark Andes (Spirit)
1949: Eddie Hardin (Spencer Davis Group)
1950: Andy Powell (Wishbone Ash)
1954: Francis Buchholz (Scorpions)
1957: David Wakeling (The Beat)
1963: Seal Henry Olusegun Olumide Adeola Samuel a.k.a. Seal
EVENTS
1971: Yes released their third LP, 'The Yes Album', the first to feature Steve Howe on guitar.
1980: Death of AC/DC singer, Bon Scott [aged 33].
1982: Ozzy Osbourne was arrested in San Antonio, Texas for urinating on the Alamo (whilst wearing a dress).
2017: Death of guitarist, Larry Coryell [aged 73].
Happy Birthday Tony Iommi! He will be very glad to have made it to 73 ~ what a trooper. He had ongoing cancer treatment, even while travelling around the world, playing gigs with Black Sabbath over the last few years. Their final tour came to an end in their home town, Birmingham on 4th February, 2017. I am so glad I got to see him play (twice with Sabbath and once with Ronnie James Dio, as Heaven & Hell). Of course, Tony invented the heavy doom guitar sound on his Gibson SG and has come up with so many classic riffs and songs. Here's one of them… and I was at this Melbourne gig! 
BIRTHDAYS
1933: Yoko Ono
1947: Dennis DeYoung (Styx)
1952: Randy Crawford
1953: Robbie Bachman (Bachman Turner Overdrive)
1954: John Travolta
1955: Brian James (The Damned)
EVENTS
1969: The Jimi Hendrix Experience appeared at the Royal Albert Hall, London.
1980: Bill Wyman announced that he would be leaving The Rolling Stones in 1982, on their 20th anniversary. He eventually quit the group in 1993.
1995: Death of guitarist, Bob Stinson of The Replacements [aged 35].
1997: Pretenders played a concert at Aotea Centre, Auckland ~ I was there!
2013: Death of singer / songwriter / guitarist, Kevin Ayers of Soft Machine [aged 68].
2017: Death of Clyde Stubblefield, the "Funky Drummer" for James Brown / Funkmasters [aged 73].
2018: Death of violinist, Didier Lockwood of Magma [aged 62].
'ay up ~ Yoko Ono is 88 today! She has already lived well over twice as long as John did. Here she is, photographed with David Bowie & John Lennon at the Grammy Awards on 1st March, 1975.
The video below is with John in Toronto in December 1969, performing "Cold Turkey". This is one of the songs where she wasn't wailing in a bag… there is a bit of wailing though. Future Yes drummer, Alan White can be heard holding it all together.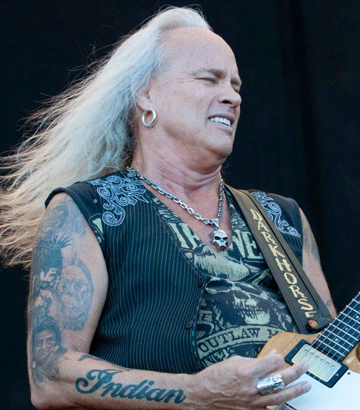 BIRTHDAYS
1950: Ricky Medlocke (Lynyrd Skynyrd / Blackfoot)
1972: Taylor Hawkins (Foo Fighters)
1972: Billie Joe Armstrong (Green Day)
1981: John Hassall (The Libertines)
EVENTS
1960: Elvis Presley won his first Gold record, for the album 'Elvis'.
1975: AC/DC released their debut album, 'High Voltage'.
1978: Kate Bush released her debut album, 'The Kick Inside', aged only 19. She had written some of the songs when she was 13 years old.
1979: Blondie's first UK No.1 album, 'Parallel Lines' started a 4-week run at the top spot.
1982: Death of jazz pianist / composer, Thelonious Monk [aged 64].
2014: Death of multi-instrumentalist / composer / record producer / audio engineer, Bob Casale of Devo [aged 61].
2021: Death of reggae singer / DJ, U-Roy [aged 78].
Ricky Medlocke is 71 today! He was a member of Lynyrd Skynyrd (as drummer, vocalist) back in the early 70s, then formed his own Southern Rock band, Blackfoot. In 1996, he rejoined Skynyrd and has played guitar / sung for them ever since. As this photo of him in Taupo five years ago shows, he is one Sioux Indian who lives and breathes to ROCK! Lynyrd Skynyrd have announced their 'Last Of The Street Survivors' farewell tour and are playing gigs across the States in 2020!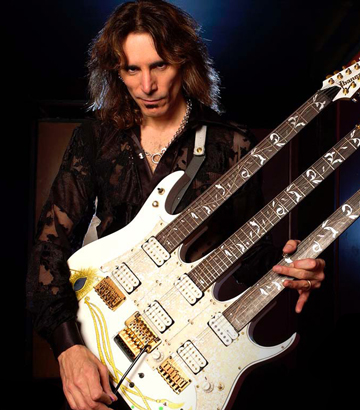 BIRTHDAYS
1935: Sonny Bono
1960: Pete Willis (Def Leppard)
1965: Dave Lombardo (Slayer)
EVENTS
1974: Bob Dylan started a four-week run at No.1 on the US album chart with 'Planet Waves'.
1976: Sweet released their fourth studio album, 'Give Us a Wink'.
1990: The Buzzcocks played a concert at The Powerstation, Auckland ~ I was there!
1991: Queen scored their seventh UK No.1 album with 'Innuendo'.
1996: Death of blues singer / songwriter / guitarist, Brownie McGhee [aged 80].
1997: Steve Vai played a concert at The Powerstation, Auckland ~ I was there!
2013: America, Bachman Turner & Pat Benatar played a concert at Taupo Amphitheatre ~ I was there!
2017: Death of keyboardist / multi-instrumentalist / singer / songwriter, Walter "Junie" Morrison of Ohio Players / Parliament / Funkadelic [aged 62].
2017: Death of artist / illustrator, Alan Aldridge [aged 78]. He was best known for his brilliant art work in two books, 'The Beatles Illustrated Lyrics' and LP covers, such as 'The Butterfly Ball and the Grasshopper Feast' & Elton John's 'Captain Fantastic'.
2018: Death of singer, Barbara Alston of The Crystals [aged 74].
This clip features the same line-up that played Auckland, '97 (except Mike Mangini ~ now with Dream Theater ~ was on drums). My favourite piece by Steve Vai…