BIRTHDAYS
1945: Mike Garson (David Bowie Band)
1953: Geddy Lee (Rush)
1953: Patti Scialfa a.k.a. Mrs Springsteen (The E Street Band)
1959: John Sykes (Tygers of Pan Tang / Thin Lizzy / Whitesnake / Blue Murder)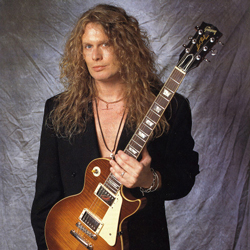 1962: Martin McCarrick (Therapy)
1966: Miles Hunt (The Wonder Stuff)
1972: Simon Jones (The Verve)
EVENTS
1965: The second Beatles film 'Help!' had its UK premiere at The Pavilion in London.
1966: Eric Clapton, Jack Bruce & Ginger Baker made their live debut as Cream at The Twisted Wheel, Manchester.
1966: Bob Dylan was injured when he crashed his Triumph 55 motorbike near his home in Woodstock, New York.
1967: The Doors started a 3-week run at No.1 on the US singles chart with "Light My Fire".
1968: Gram Parsons left The Byrds on the eve of a South African tour, refusing to play to segregated audiences.
1973: Led Zeppelin lost $180,000 in cash from two Madison Square Garden concerts in New York City, when a thief made off with their safe deposit box at The Hilton.
1974: Death of singer, Cass Elliot of The Mamas & The Papas [aged 33].
1980: David Bowie starred in the stage play of 'The Elephant Man', in Denver, Colorado.
1988: Death of record producer / pedal steel guitar player, Pete Drake [aged 56].
2007: Death of jazz bassist, Art Davis [aged 73].
Happy 68th Birthday, Geddy Lee of RUSH!! What an incredible musician Geddy is, playing bass, keyboards, pedals and singing ~ often all at the same time! So many amazing Rush songs to choose from, but everyone loves this one…
BIRTHDAYS
1944: Mike Bloomfield (Butterfield Blues Band / Electric Flag / Bob Dylan)
1945: Rick Wright (Pink Floyd)
1949: Simon Kirke (Free / Bad Company)
1949: Steve Peregrin Took (T. Rex)
1954: Steve Morse (Dixie Dregs / Kansas / Deep Purple)
1955: Gregg Giuffria (Angel / House of Lords / Giuffria)
1986: Jacoby Dakota Shaddix (Papa Roach)
EVENTS
1741: Death of composer / violinist, Antonio Vivaldi [aged 63].
1962: Death of jazz pianist / vibraphonist, Eddie Costa [aged 31].
1973: Thin Lizzy appeared at The Marquee Club, London.
1975: Black Sabbath released their sixth album, 'Sabotage'.
1979: "I Don't Like Mondays" gave The Boomtown Rats their second UK No.1 single.
2003: Death of jazz bassist, Samuel Bell [aged 81].
Rick Wright of Pink Floyd would have been 76 today, but sadly, he didn't make it (he died of cancer in 2008). Filmed live in Pompeii in early October, 1971, this masterpiece (in two parts) is a tribute to the wonderful music Rick created in his lifetime ~ it Echoes through our lives…
BIRTHDAYS
1942: Bobbie Gentry
1949: Rory MacDonald (Runrig)
1962: Karl Mueller (Soul Asylum)
1964: Rex Brown (Pantera)
1967: Juliana Hatfield
EVENTS
1974: Wings started a 7-week stay at No.1 on the UK album chart with 'Band on the Run'
1976: After a 4-year legal battle, John Lennon was awarded his Green card, allowing him permanent residence in the U.S.
1984: Motorhead played a concert at Mainstreet, Auckland — I was there!
1986: Queen became the first Western pop group to perform in Eastern Europe when they played at Budapest's Nepstadion, Hungary. The gig was filmed and released as 'Queen Magic in Budapest'.
1990: Faith No More played a concert at Auckland Town Hall — I was there (and met them after the show).
2020: Death of singer, Judith Peters a.k.a. Miss Mercy of The GTOs.
On this day in 1984, I attended the Motorhead concert at Mainstreet, Auckland. I took the photo shown here. The gig was ~ of course ~ awesome! R.I.P. Lemmy.


On 27th July in 1990 I went to the epic Faith No More gig at Auckland Town Hall. It was 31 years ago, but I remember their singer, Mike Patton was wearing a McDonalds uniform on stage, he had somehow gotten off a fan. This was when Big Jim was in the band and he had a killer guitar sound ~ he said he was right into Zappa and Sabbath. This was confirmed during the show, when they launched into "War Pigs". 
BIRTHDAYS
1942: Dobie Gray
1943: Mick Jagger (The Rolling Stones)
1949: Roger Meddows-Taylor (Queen)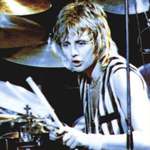 1956: Mark Seymour (Hunters & Collectors)
1961: Gary Cherone (Extreme / Van Halen)
1980: Jacinda Ardern (DJ / NZ Prime Minister)
EVENTS
1977: Led Zeppelin cut short a US tour after Robert Plant's 6-year-old son, Karac died unexpectedly of a stomach virus at their home in England.
1980: The Monsters of Rock festival at Donington featured Rainbow, Judas Priest, Scorpions, Saxon, April Wine & Riot.
1980: The Rolling Stones began a 7-week run at No.1 on the US album chart with 'Emotional Rescue'.
2013: Death of guitarist / singer / songwriter, John "J.J." Cale [aged 74].
2016: Death of producer / manager / songwriter, Sandy Perlman [aged 72]. He produced albums by many artists, including Blue Öyster Cult, The Clash, & Pavlov's Dog and managed Black Sabbath (1979 – 1983), The Dictators and others.
2021: Death of singer / songwriter, Mike Howe, of Metal Church [aged 55].
Sir Michael Jagger is 78 years old today! Quite unbelievable really, especially if you saw Mick performing with The Stones on their 2014 tour. He dances, grooves, shimmies and sashays across the stage like a (very fit) man 50 years younger! Here's to Mick ~ long may he rock 'n' roll!
Mick was only 70 when this clip was filmed!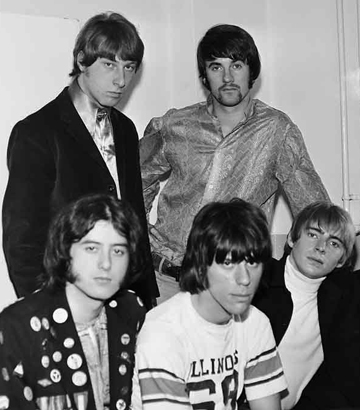 BIRTHDAYS
1941: Manuel Charlton (Nazareth)
1943: Jim McCarty (Yardbirds)
1946: Jose Chepito Areas (Santana)
1950: Mark Clarke (Colosseum / Uriah Heep / Rainbow)
1951: Verdine White (Earth, Wind & Fire)
1958: Thurston Moore (Sonic Youth)
EVENTS
1964: The Beatles 3rd album 'A Hard Days Night' began a 21-week run at No.1 on the UK charts.
1965: Bob Dylan played a full 'electric' set at Newport Folk Festival and was booed off stage.
1969: Neil Young appeared with Crosby Stills & Nash for the first time, at Fillmore East, N.Y.
1969: Yes released their self-titled debut album.
1970: Yes released their second album, entitled 'Time and a Word'.
1980: AC/DC released 'Back in Black', their first album with new singer, Brian Johnson, who had replaced the late Bon Scott.
1992: Def Leppard played a concert at Mt. Smart Stadium, Auckland. I was there and met them after the gig. Earlier, I interviewed guitarist, Phil Collen and had coffee with him and his Mum at Kelly Tarlton's cafe. In the photo, Phil is holding Universal Music's award to Def Leppard for triple Platinum sales of 'Hysteria' in NZ.

2003: Death of guitarist / singer, Erik Braunn, of Iron Butterfly [aged 52].
2008: Death of guitarist, Hiram Bullock [aged 52].
2020: Death of guitarist / singer / songwriter, Peter Green (Peter Greenbaum), founder of Fleetwood Mac [aged 73].

From the band that started it all… Happy 78th Birthday to Yardbirds drummer, Jim McCarty! Here's a classic piece of rock history ~ The Yardbirds captured live for the 1966 film, 'Blow Up', featuring Jimmy Page & Jeff Beck!
BIRTHDAYS
1947: Alan Whitehead (Marmalade)
1958: Anthony Michaelides a.k.a. Mick Karn (Japan / Dali's Car / Rain Tree Crow / David Torn, etc.)
EVENTS
1967: All four Beatles and their manager, Brian Epstein signed a petition printed in The Times newspaper calling for the legalisation of marijuana.


1972: Death of drummer, Bobby Ramirez, of Edgar Winter's White Trash [aged 24]. He was attacked and murdered after comments were made about his long hair at a Chicago bar.
1976: Cardiff Castle Concert in Wales featured Status Quo, Strawbs, Hawkwind, Curved Air & Budgie.
1980: Death of Peter Sellers [aged 54].
1990: A wrongful death trial involving Judas Priest opened in Reno, NV. Parents had charged in a lawsuit that the band's 'Stained Class' album contained subliminal messages that drove two teenagers to attempt suicide. The judge cleared the group.
1993: U2 achieved their fourth No.1 on the US album chart with 'Zooropa'.
1998: Aerosmith announced that they were postponing the first 13 dates of their U.S. tour, due to drummer Joey Kramer receiving second-degree burns in a gas station fire.
2021: Death of musician / actor, John "Hutch" Hutchinson [aged ?]. Hutch was best known for his occasional collaborations with David Bowie, between 1966 & 1973.
Today is a tribute to bassist, Mick Karn, as it's his birthday ~ Mick played such amazing stuff on his fretless! Over the years he created music with Japan, Dali's Car, Rain Tree Crow, David Torn and others. Here's some excellent footage of the late great bassist, joined by Steven Wilson, Steve Jansen & Richard Barbieri. Check it out…
BIRTHDAYS
1946: Andy McKay (Roxy Music)


1947: Tony Joe White
1947: David Essex
1950: Blair Thorton (Bachman Turner Overdrive)
1964: Nick Menza (Megadeth)
1965: Saul Hudson a.k.a. Slash (Guns N' Roses / Velvet Revolver)
1971: Alison Krauss
EVENTS
1979: Death of keyboard player, Keith Godchaux of The Grateful Dead [aged 32].
1983: The Police went to No.1 on the US chart with 'Synchronicity' — and stayed there for 17 weeks!
1988: After 49 weeks on the US album chart, 'Hysteria' by Def Leppard went to the No.1 position.
Happy F'n' 56th, Slash!
BIRTHDAYS
1941: George Clinton (Parliament / Funkadelic)
1944: Rick Davies (Supertramp)
1947: Don Henley (Eagles)
1954: Al Di Meola
1956: Mick Pointer (Marillion)
1964: William Calhoun (Living Colour)
1969: Jason Becker (Cacophony)
1973: Rufus Wainwright
1998: IRIS a.k.a. Iris Dunn

EVENTS
1967: Vanilla Fudge played their first concert, in New York.
1977: Elvis Costello released his debut album, 'My Aim is True'.
1996: Death of keyboard player, Rob Collins of The Charlatans [aged 31].
2017: Death of singer / producer, Bobby Taylor [aged 83].
2019: Death of singer / songwriter / bandleader, Art Neville of The Meters & The Neville Brothers [aged 81].
Happy Birthday to Don Henley ~ he's 74 today! A good excuse to roll out this stone cold classic Eagles song from 1975. How does Don play drums and sing so well, all at the same time?
BIRTHDAYS
1942: Kim Fowley
1948: Steven Georgiou a.k.a. Cat Stevens a.k.a. Yusuf Islam
1955: Howie Epstein (Tom Petty & The Heartbreakers)
1961: Jim Martin (Faith No More)
EVENTS
1971: Black Sabbath released their third album, 'Master of Reality'. It was the first Sabs LP I bought back in the 70s and is still one of my all time favs! You may notice similarities in the colours of my ROCKSTUFF logo. 😉


1990: Roger Waters' production of 'The Wall' took place at the Berlin Wall in Potzdamer Platz, Berlin.
2002: Death of producer, Gus Dudgeon [aged 59].
2004: Death of composer, Jerry Goldsmith [aged 75].
2005: Death of blues singer / songwriter, Long John Baldry [aged 64].
2007: Death of music mogul, Don Arden [aged 81].
2016: Death of bassist, Lewie Steinberg, of Booker T. & The M.G.s [aged 82].
2017: Death of singer, Kenny Shields of Streetheart [aged 69].
2020: Death of designer, Kansai Yamamoto [aged 76]. Kansai produced costumes, made famous by David Bowie, Elton John & Stevie Wonder. He collaborated with Bowie though the 1970s, designing a series of kimonos and outrageous onstage outfits, such as the "Tokyo Pop" bodysuit.
Happy 73rd Birthday, Yusuf, a.k.a. Cat Stevens! The Cat wrote many wonderful songs… his music always reminds me of my Dad.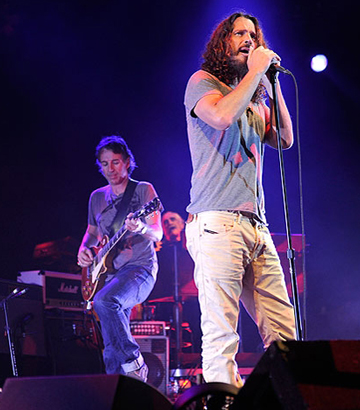 BIRTHDAYS
1945: John Lodge (Moody Blues)
1947: Carlos Santana
1956: Paul Cook (The Sex Pistols)
1964: Chris Cornell (Soundgarden / Temple of the Dog / Audioslave)
1966: Stone Gossard (Pearl Jam / Green River / Mother Love Bone / Temple of the Dog / Brad)
EVENTS
1968: Cream started a four-week run at No.1 on the US album chart with 'Wheels of Fire'.
2017: Death of Roi / Roy Colbert, Dunedin music writer / journalist and owner of legendary "Records Records" shop [aged 67]. I visited Roy's vinyl store in Stuart Street many, many times in the late 70s / early 80s (and still have most of the LPs I bought there).


2017: Death of singer, Chester Bennington of Linkin Park & Stone Temple Pilots [aged 41].
Birthday thoughts go out for singer, Chris Cornell of Soundgarden (who would have been 57 today) & guitarist, Stone (yes, that is his real name) Gossard, who is 55 today. They are both shown in the photo above, as bandmates in Temple of the Dog, but Stone has been in many other cool bands (Pearl Jam, Green River, Mother Love Bone & Brad). I always loved the Temple of the Dog album! C.C. R.I.P.