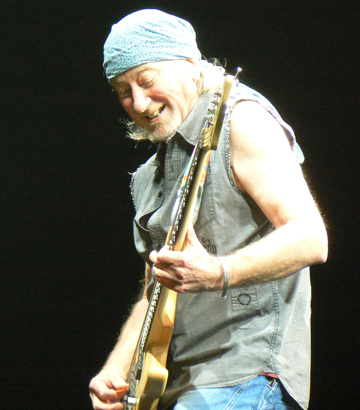 BIRTHDAYS
1915: Brownie McGhee
1943: Leo Lyons (Ten Years After)
1945: Roger Glover (Deep Purple)
1949: Terry Reid
1953: David Sancious (The E Street Band)
1955: William Broad a.k.a. Billy Idol
1957: John Ashton (Psychedelic Furs)
1957: Richard Barbieri (Japan / Porcupine Tree)
1959: Cherie Currie (Runaways)
EVENTS
1963: 'With The Beatles' became the first million selling album by a group in the UK.
1974: Sweet released their 'Desolation Boulevard' album.
1979: Pink Floyd released their double LP, 'The Wall'.
1981: Yes released the 'Classic Yes' compilation.
1999: Death of violinist, Don "Sugarcane" Harris [aged 61].
Happy 74th Birthday today to Roger Glover of Deep Purple! Many Happy Returns also to my Mum, our good friend, RL and others.
The photo above was taken by my mate, Mikki, when we caught Deep Purple (again) at Vector Arena, Auckland on 24 February, 2013. Here's the Purps in action, on a track from 1972 which features Roger's great bass playing (especially at around the 3:30 mark). Awesome stuff and made to look so easy!