BIRTHDAYS
1945: Mike Garson (David Bowie Band)
1953: Geddy Lee (Rush)
1953: Patti Scialfa a.k.a. Mrs Springsteen (The E Street Band)
1959: John Sykes (Tygers of Pan Tang / Thin Lizzy / Whitesnake / Blue Murder)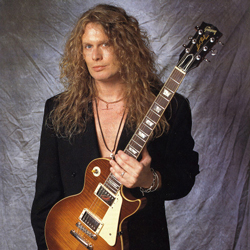 1962: Martin McCarrick (Therapy)
1966: Miles Hunt (The Wonder Stuff)
1972: Simon Jones (The Verve)
EVENTS
1965: The second Beatles film 'Help!' had its UK premiere at The Pavilion in London.
1966: Eric Clapton, Jack Bruce & Ginger Baker made their live debut as Cream at The Twisted Wheel, Manchester.
1966: Bob Dylan was injured when he crashed his Triumph 55 motorbike near his home in Woodstock, New York.
1967: The Doors started a 3-week run at No.1 on the US singles chart with "Light My Fire".
1968: Gram Parsons left The Byrds on the eve of a South African tour, refusing to play to segregated audiences.
1973: Led Zeppelin lost $180,000 in cash from two Madison Square Garden concerts in New York City, when a thief made off with their safe deposit box at The Hilton.
1974: Death of singer, Cass Elliot of The Mamas & The Papas [aged 33].
1980: David Bowie starred in the stage play of 'The Elephant Man', in Denver, Colorado.
1988: Death of record producer / pedal steel guitar player, Pete Drake [aged 56].
2007: Death of jazz bassist, Art Davis [aged 73].
Happy 67th Birthday, Geddy Lee of RUSH!! What an incredible musician Geddy is, playing bass, keyboards, pedals and singing ~ often all at the same time! So many amazing Rush songs to choose from, but everyone loves this one…