BIRTHDAYS
1942: Dobie Gray
1943: Mick Jagger (The Rolling Stones)
1949: Roger Meddows-Taylor (Queen)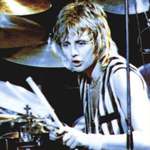 1956: Mark Seymour (Hunters & Collectors)
1961: Gary Cherone (Extreme / Van Halen)
1980: Jacinda Ardern (DJ / NZ Prime Minister)
EVENTS
1977: Led Zeppelin cut short a US tour after Robert Plant's 6-year-old son, Karac died unexpectedly of a stomach virus at their home in England.
1980: The Monsters of Rock festival at Donington featured Rainbow, Judas Priest, Scorpions, Saxon, April Wine & Riot.
1980: The Rolling Stones began a 7-week run at No.1 on the US album chart with 'Emotional Rescue'.
2016: Death of producer / manager / songwriter, Sandy Perlman [aged 72]. He produced albums by many artists, including Blue Öyster Cult, The Clash, & Pavlov's Dog and managed Black Sabbath (1979 – 1983), The Dictators and others.
Sir Michael Jagger is 77 years old today! Quite unbelievable really, especially if you saw Mick performing with The Stones on their 2014 tour. He dances, grooves, shimmies and sashays across the stage like a (very fit) man 50 years younger! Here's to Mick ~ long may he rock 'n' roll!
Mick was only 70 when this clip was filmed!