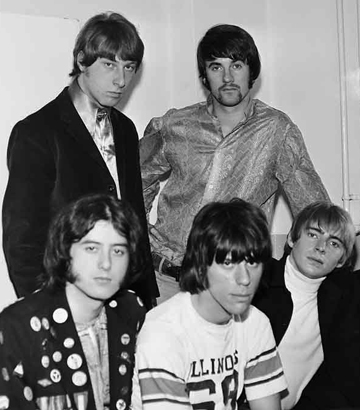 BIRTHDAYS
1941: Manuel Charlton (Nazareth)
1943: Jim McCarty (Yardbirds)
1946: Jose Chepito Areas (Santana)
1950: Mark Clarke (Colosseum / Uriah Heep / Rainbow)
1951: Verdine White (Earth, Wind & Fire)
1958: Thurston Moore (Sonic Youth)
EVENTS
1964: The Beatles 3rd album 'A Hard Days Night' began a 21-week run at No.1 on the UK charts.
1965: Bob Dylan played a full 'electric' set at Newport Folk Festival and was booed off stage.
1969: Neil Young appeared with Crosby Stills & Nash for the first time, at Fillmore East, N.Y.
1969: Yes released their self-titled debut album.
1970: Yes released their second album, entitled 'Time and a Word'.
1980: AC/DC released 'Back in Black', their first album with new singer, Brian Johnson, who had replaced the late Bon Scott.
1992: Def Leppard played a concert at Mt. Smart Stadium, Auckland. I was there and met them after the gig. Earlier, I interviewed guitarist, Phil Collen and had coffee with him and his Mum at Kelly Tarlton's cafe. In the photo, Phil is holding Universal Music's award to Def Leppard for triple Platinum sales of 'Hysteria' in NZ.

2003: Death of guitarist / singer, Erik Braunn, of Iron Butterfly [aged 52].
2008: Death of guitarist, Hiram Bullock [aged 52].
2020: Death of guitarist / singer / songwriter, Peter Green (Peter Greenbaum), founder of Fleetwood Mac [aged 73].

From the band that started it all… Happy 77th Birthday to Yardbirds drummer, Jim McCarty! Here's a classic piece of rock history ~ The Yardbirds captured live for the 1966 film, 'Blow Up', featuring Jimmy Page & Jeff Beck!